Memberships
Access all of our classes when you want them. Switch freely between classes so you get to decide when you come and what you do.
Want to master recall or lead walking? Then check out our puppy and adult classes.
Just want to have fun? How about Scentwork or Tricks?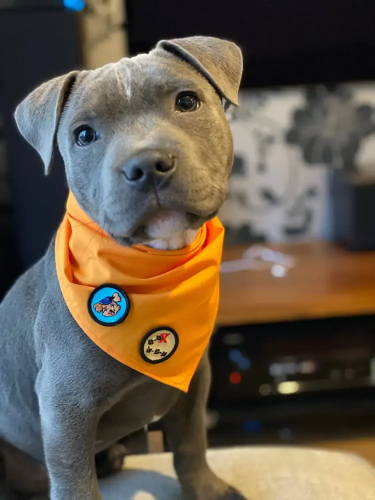 You choose which classes you want to attend via our app. No need to attend on the same day, time or even the same class - unless you want to of course.
We run a huge range of different activity classes so you can do more with your dog. Bad weather? How about replacing your dog walk with some indoor scentwork instead.
Certificates are boring! Instead your dog will get an orange bandana and the more you do the more badges they'll earn. It's like scouts for dogs!
We have classes all over South Bristol. Here are some of the places we hold classes...
Locations we use:
Whitchurch, Hengrove, Brislington & Pensford.
Here are some of the classes we run regularly; Adult, Puppy, Semi-Private Training, Beginner Tricks, Scentwork, Hoopers (similar to Agility), Mantrailing.
Once you have signed up to a membership you'll be automatically emailed log in details for our app. Set up your profile, scroll through the schedule and get yourself booked on to a class. We'll look forward to seeing you there!
My dog is aggressive towards other dogs and/or people can I come?

Our classes are not suitable for dogs with aggression issues. If you would like help with these issues then email us at info@houndplus.com for private training.
When is my puppy ready to attend classes?

Puppies can attend our indoor puppy classes after their first vaccination. They should be fully vaccinated before attending any other classes.
I have multiple dogs, can I bring both?

You're welcome to rotate which dog you bring to class on your membership. One credit is representative of one space in class for this reason we ask that you don't bring both unless you've booked two spaces using a second membership or discussed with us.
Can I pause my subscription?